EDIT MAIN
Enjoy the Wonders of Nature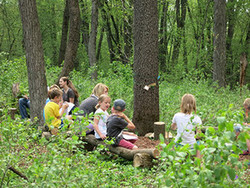 We invite you to walk the trails of the Cambridge School Forest in every season. The abundant blooms of spring wildflowers are an amazing sight, but every season has special sights, sounds, and smells for you to enjoy.
Outdoor learning spaces for all
The woods have been part of the elementary experience since 1998, when we moved into our new elementary school building. Students at every grade level have regular opportunities for lessons, activities, observations, research, explorations and service-learning in this wonderful outdoor classroom.
We are pleased to offer active outdoor learning experiences to students because they have been shown to both increase student academic success and improve attitude and behavior. The Cambridge Elementary School Forest lies just north of our Cambridge Elementary School building. A system of trails and learning spaces, built and maintained by students and volunteers, makes this 9-acre woodland accessible for classroom activities as well as the public.
Why is our woods a School Forest?
Our woods received the designation of a School Forest in 2011 when we submitted our forest education plan to the School Forest Program at UW-Stevens Point. This designation offers us many benefits and will help us realize our educational goals, as well as our forest management goals for this woodland learning center.
Migratory Birds Found in Our School Forest
AMERICAN REDSTART | CALL

PHOTO BY KEVIN VANCE, TOWPATH PHOTO


BALTIMORE ORIOLE | CALL

PHOTO BY HOAN LUONG


BLACK-AND-WHITE WARBLER | CALL

PHOTO BY RICHARD CROOK


GREAT-CRESTED FLYCATCHER | CALL

PHOTO BY BRENT EADES


INDIGO BUNTING | CALL

PHOTO BY HENRY T. McLIN


PROTHONOTARY WARBLER | CALL

PHOTO BY DAVE INMAN


ROSE-BREASTED GROSBEAK | CALL

PHOTO BY STEVEN KERSTING


SCARLET TANAGER | CALL

PHOTO BY KELLY COLGAN AZAR


WHITE-THROATED SPARROW | CALL

PHOTO BY JOHN FLANNERY


WOOD THRUSH | CALL

PHOTO BY JERRY OLDENETTEL


YELLOW-RUMPED WARBLER | CALL

PHOTO BY NIGEL


YELLOW WARBLER | CALL

PHOTO BY RODNEY CAMPBELL


If you have questions about our woods, our woodland curriculum, or are looking for volunteer opportunities, please contact Georgia Gomez-Ibanez through the Cambridge Elementary School.
As part of our management/restoration plan, we have been removing invasive species such as Buckthorn trees (a non-native invasive tree) and garlic mustard from our woods each winter since 2009. The woods is responding with amazing growth of native plants that welcome a growing variety of wildlife. Volunteers are always welcomed for the ongoing restoration. How can you get involved?