EDIT MAIN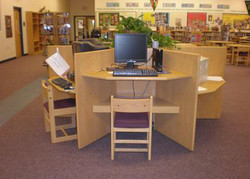 Welcome to the IMC!
Our Instructional Media Center (IMC) is a spacious, well-lit facility that is centrally located in the Cambridge Elementary School. With three entrances, the IMC is easily accessible from the surrounding classrooms.
Our goal as the IMC staff is to provide all students, staff, and community members with free access to the highest quality materials available that represent a wide range of information and ideas. The Cambridge Elementary School IMC houses a collection of over 20,000 items. You'll find fiction and nonfiction books of all types, magazines, videos, DVDs, CDs, kits, and other formats as well as the necessary equipment to use these materials.
The IMC also provides a mini lab that has a total of six computers. This lab provides an area where students can come to the IMC with their teacher's permission to work on individual projects, if needed.
Library Time in the IMC
Each week, every class has a scheduled library time for skills instruction, story reading, and material selection. Teachers also schedule small or large group sessions in the IMC during free periods. In addition, students are free to visit the IMC individually at any time with their teacher?s permission.
Checking Out Materials
Teachers and library staff determine how many books can be checked out each week by the students. Although fines are not charged for overdue books, children are responsible for the cost of any lost or damaged IMC materials.
Note: Parents and community members are welcomed to check out materials from the student and professional collections at any time.