EDIT MAIN
Welcome to Cambridge!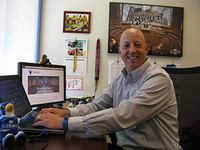 I am excited to serve as the principal at Cambridge High School and Director of Curriculum and Instruction for the District where we embrace the School District of Cambridge goal of striving to prepare our students to be citizens who learn, achieve, and envision the future.
Prior to going into administration, I was a business education teacher for 14 years (3 years at Johnson Creek High School and 11 years at Cambridge High School.) My administrative experience includes working as an associate principal at Northside Intermediate School for three years and working as the principal at Cambridge Elementary School for three years. I hold two degrees from UW-Whitewater (bachelor and master's degree in Business Education) and completed my principalship and director of instruction coursework from Viterbo University. I have taught students ranging from elementary age through college age during my teaching experiences.
In my spare time, I enjoy golfing, reading, detailing and working on vehicles, attending/watching/playing sports (I love the Packers, Brewers and Badgers), camping and spending time with family and friends.
My family and I live in Cambridge. Joyce, my wife, is employed in Madison as a marketing and community resource manager. Kelsey, our daughter, will graduate from Carroll University with a degree in nursing this school year and enjoys reading, swimming, running and singing/music/band. Riley, our son, will graduate from Cambridge High School this school year and enjoys running (cross country and track and field) and playing video games (especially NBA2K18)!
Again, I am very fortunate and excited to serve the community of Cambridge. If you have any questions about Cambridge High School, please feel free to call me or email me.
Keith A. Schneider
Cambridge High School Principal and Director of Curriculum and Instruction