EDIT MAIN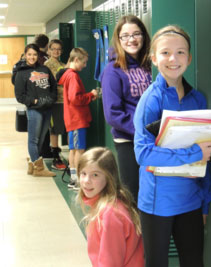 Nikolay Middle School Days
Nikolay Middle School students have eight class periods during a typical school day. Our school day normally begins at 7:50 a.m. and ends at 3:15 p.m. On Wednesdays, our school day will begin one hour later.
Late Start Wednesdays
Each Wednesday, with a few exceptions, classes at Nikolay Middle School will begin one hour later than normal. This late start will allow our teaching staff additional time to collaborate on student learning data, plan for student interventions, work on curriculum, and receive professional development. We are confident that this time will result in improved student learning in our district.
Our staff does not want the late start to be an inconvenience for our families. Because of this, we will provide supervision for students that need to arrive at the normal start time. Our school has established procedures and protocols that are unique to Nikolay Middle School.
Bus Routes
There will be no changes in bus schedule. Bus routes will not run an hour late so, if you choose to have your student ride the school bus, the pick-up times remain the same.
Walkers and Drop Offs
Students who normally walk to or are dropped off at school have the option to come at the normal time or one hour later.