2023/2024 Key Dates Calendar
Wear Red Day is just around the corner on Friday, February 3rd! We are hoping YOU can join us in reaching our goal of having 350 people wear red to build awareness about heart health!
Just a friendly reminder that there is no school on Monday, January 16th.
Have a happy holidays!
The truth has finally come out. Mr. Holt is NOT the Grinch!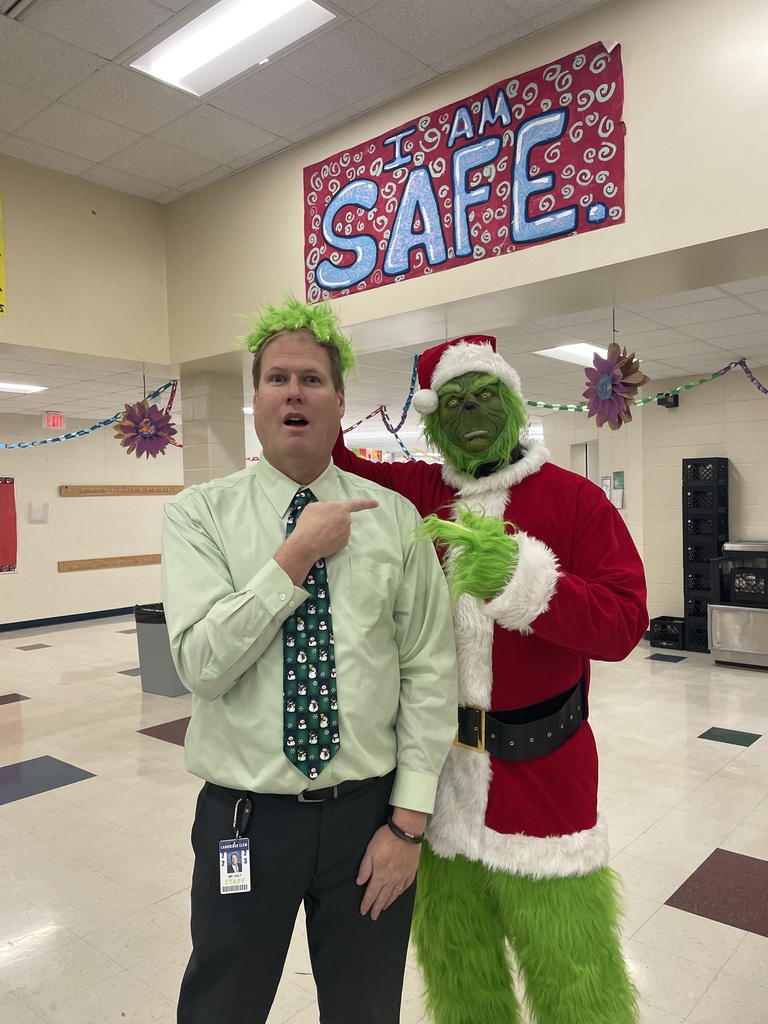 The Cambridge School Board of Education is seeking community input as they consider a spring operations referendum. The survey will take 3-5 minutes and will be available to complete thru Friday, 12/9. The "link" to the survey can be found at the top of the district web site (
https://www.cambridge.k12.wi.us/
) as well as any of the school web-sites, or you can scan the QR code provided in this post. Thank you for your feedback. Please contact Superintendent, Marggie Banker with questions, (608)423.4345 or
mbanker@cambridge.k12.wi.us
Just a friendly reminder that we do not have school Wednesday, 11/23 - Friday, 11/25. Please enjoy the Thanksgiving break!
Just a friendly reminder that Wednesday, October 26 is an early release day. CES will release students at 11:00 am. There is NOT late start Wednesday. School will begin at 8:00 am.
FREE community wide vaccination clinic on Saturday, 10/22 from 9 am - 12 pm at the Cambridge Elementary School. Flu and Covid-19 boosters available
Picture retake day is just around the corner!! Network Photography will be at CES on October 4 beginning at 9:15. If your child did not have their picture taken at registration they will be able to have it taken on October 4. If you did not like the pictures that were taken at registration, please send back the pictures you received (if you ordered them) and new pictures will be taken.
Mike McGowan, motivational speaker, met with the CES students on Friday, 9/9 to talk about kindness and how to stand up for your friends. It was a great way to start the morning!
Save the date! Bike, Walk and Roll To School Thursday, September 22!
Cambridge Schools District Wide Registration & Picture Day Date: August 10, 2022 Time: 2:00 p.m.-7:00 p.m. Location: Cambridge High School
KEY DATES CALENDAR 2022/2023
Happy Monday! Summer School dates are: Tuesday, June 7 to Friday, July 1 Session 1: Tuesday, June 7 to Friday, June 17 Session 2: Monday, June 20 to Friday, July 1 Monday, August 1 to Friday, August 12 Classes will run again Monday through Friday from 8:00 am to noon. If you have any questions or concerns, please let us know. Pete Moe, Summer School Principal Jenny DeForest, Summer School Assistant
Key Dates Calendar 2020/2021

Apparently someone thinks she is retiring today! Wishing Cheri Abel a wonderful retirement after 30+ years of dedication to the Cambridge School District. Thanks for all your hard work. Enjoy every moment, you deserve it. #gobluejayssdc

The Star Spangled Banner in your P.J.s. Doesn't get much better. These young ladies did an amazing job this morning. They are June Fitzgerald, Olivia Anderson, Lily Gilbertson, Abbey Rusch, Alexis French and Emma Eklof. #gobluejayssdc

February CES students worked on being Hard Workers for our character trait. The following students were chosen as the recipients for February: Cara Suick, Kailyn Holzhueter, August Ciha, Harper Zinzow, Nevaeh Becker, Evelyn Wendt, Alex Gordon, Jameson Richter, Easton Bernhardt, Ava Dehnert, and Ben Buckman Andrew Landowski, Addy Adas, and Keegan Johnson Alex Gordon, Brady Brandt, Kira Schmidt, Jill Thompson, Allison Hammons, Enzo Schmidt, Wesley Dunston, Annarose Grunwald, and Ella Bender Congratulations on being awesome Hard Workers. #gobluejayssdc