A few photos of our Bike/Walk to School event.

We had FFA members/students from CHS, NMS, and KT visit the elementary school today and brought their animals, information and expertise to share with our 3-5 graders. Here are a few pictures of the day.

Each year the Greater Dane County Advanced Learner Network sponsors a haiku poetry contest for fourth grade students. Approximately 3000 haiku were submitted and judges selected less than 40 winning entries for publication in the 2019 anthology. Three Cambridge Elementary School students were recognized for their exceptional haiku: Jill Thompson, Alyssa Breunig, and Melissa Jingga-Maron. They were invited to attend an award ceremony at Eagle School in Fitchburg on Monday, April 29th. Adam Kern, Professor of Japanese Literature and Visual Culture at UW-Madison, was the emcee for the event and one of the judges for this year's contest. Congratulations on your winning Haiku.

Our 4th graders went to both Arington Tree Farm and the SLC on Friday. Here are a few photos from their visits.

Every year Ag in the Classroom for Jefferson County has a writing contest. This year's subject was "Wisconsin Farmer's Markets". Our 4th graders wrote essays pertaining to that theme and their teachers entered them into the contest. Sofia Scicero from Ms. Jablonski's class won First Prize which was an Ice Cream Party for her classroom, a certificate and monetary prize. Macy Robinson from Mrs. Mosey's class received 3rd place and received a certificate and monetary prize. We are fortunate to have so many talented writers in our 4th grade class that two from our school were selected. Here are a few photos from the day Sofia and Macy received their awards.

Mrs. Bell's AM-4K enjoying milk/snack break in their new Bunny ears.

CES had a wonderful framed Art Show and Sale Tuesday evening. The student's art looks amazing and when you add a frame AWESOME!

Our 5th graders recently took the Cambridge Council's Knights of Columbus Math and Spelling Tests. For Math there was a 3-way tie for First Place among Thomas Carlson, Carter Rosenberg, and Daniel Swain. Alyssa Gottschalk took Second Place. For the Spelling Test Aiden Nordstrom took First Place and Thomas Carlson took Second Place. When these students moved on to the Diocese Level testing in Sauk City, Daniel Swain took First Place for Math and Aiden Nordstrom took Third Place for Spelling. Daniel Swain moved on to the State Level testing in Wisconsin Rapids where he took Third Place for Math. Way to go everyone, well done. #gobluejayssdc

The CES "Green Team" has been busy this year working on recycling as much of the lunch waste as possible. From left to right are Allison Hammons, Ana Lothe, Oliver Miller, Tanner Furseth, Mason Medley, Addison Shechter, Vivienne Eckerman, Landon Hill-Houk, Kinsley Johnson, Wren Timp, Aurora Sullivan, Lucy Grauerholz, Anna Belle Dunston, Kailyn Holzhueter, Paisley Lemon, Lillyeth Gonzalez, Alyssa Breunig, Kimmie Roidt, Alonya Kessler, Wyatt Beattie, Luke Marren, Mr. Holt, Mrs. Helgestad, Mrs. Bamlett, Mrs. Long, Mrs. Abel, Adrianna Calame, Dakota Eagen, and Mrs. Overhouse.

Our March character trait was Perseverance: "Doing something despite difficulty or delay in achieving success". The following students were Award recipients for their perseverance during March: Ben Marchant & Easton Bernhardt from A.M. 4K and Ashton Thayer, Brilee Yach, Jacey Peter, Lottie Marsh, Sawyer Harrison, Michael Kinney, Hawkins Olson, Aiden Williams, Gus Mitchell, Jude Brown, Annilee Legge, Marley Marsh, Leslie Zimmerman, Emmet Maddocks, Taylor Strohbusch, Carter Rosenberg, Dani Olson, Bryce Rahn, Ari Buss, and Owain Nelles. Nice job working hard on your goals.

Our 4Kers are once again collecting food donations for our local food pantry. Please consider sending in a donation with your elementary student tomorrow or Friday and the 4K will be happy to collect it from their classrooms. Thank you in advance for your donations. As you can see they are off to a great start.

A little Late Start fun at CES with Mrs. Overhouse. #gobluejayssdc

Our second graders had a visit from Mrs. Mehringer on Friday. She talked to them about how we use agriculture every day and couldn't live without it. She discussed with us all the different things that we get from farms.

CES was lucky enough to have our wonderful PTO bring Opera for the Young to us again today. Our Blue Jay Choir under the direction of Mrs. Betsy Bamlett participated along with some of our 4th & 5th grade students. Visitors were impressed. Thank you Cambridge K12 PTO

During their 4th grade concert last evening the students showed off their skills on their recorders. #gobluejayssdc

Camp Read-a-Lot is in full swing this week at the Cambridge Elementary IMC. Indoor camping at its best. Students are enjoying the campfire, tents, camp chairs, and most importantly BOOKS!

Cambridge Elementary was visited by Commissioner of Insurance, Mark Afable today as part of Governor Evers initiative to celebrate Read Across America Day. He visited our 5K classes, read them a book and answered questions. The kids even get to take home a "Look forward to your future" animal. Thank you so much for joining us Commissioner Afable.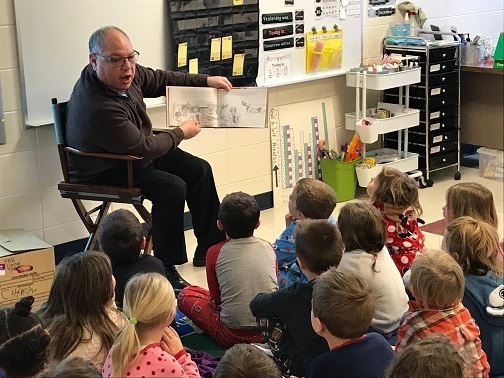 Geri U'Ren, Dr. Seuss aficionado visited CES today and spent some time with classes sharing her love for Dr. Seuss and especially The Cat in the Hat. Thank you Geri.

It's Scholastic Book Fair time! Please visit the elementary school with your child/ren after school today, tomorrow and Friday or during conferences Thursday evening. Thank you for supporting this PTO fundraiser and thank you to our awesome volunteer Mrs. Roberts and Mrs. Sullivan. #gobluejayssdc

Empathy - the ability to understand and share the feelings of another. Our elementary students learned and practiced this character trait during February. Those selected as our award recipients for empathy are: Sophia Stafford, Blake Raether, Carter Sterwald, Evadne Richter, August Lund, Kira Schmidt, Mackenzie Brainard, Evelyn Wendt, Olivia Anderson, Josie Lund, Jayden Bamlett, Taylor Berge, Allan Dys, Luke Blackwood, Sofia Scicero, Tara Bettenhausen, Helena Schmitt, Paisley Treige, Grayson Daniel, Lucy Grauerholz, and Norah Beattie (all picutred together). Our a.m. 4K recipients are: Rheese Raether and Corbin Klemp (small group). Congratulations to all our February recipients. #gobluejayscsd